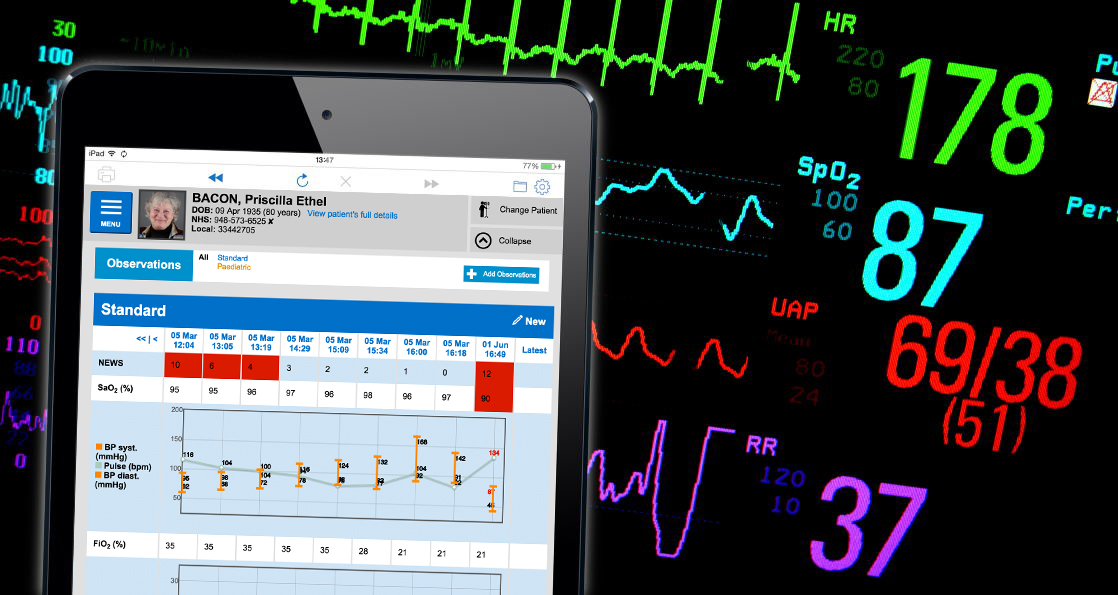 Electronic Observations
PatientSource's electronic observations module tracks all your patients' vital signs and records them, plotting them on a digital observation chart. It raises alerts for abnormal signs and can escalate these alerts until they are dealt with. Fully customisable early warning score system.
Electronic Observations (Vitals)
PatientSource's Observations module allows patient vitals to be automatically harvested from bedside monitors, recorded and plotted. Healthcare staff are alerted to worrying trends, and patient alerts can be automatically escalated to the next senior level until they are dealt with.
Our Electronic Observations solution is one module of our modular platform, meaning it can be purchased as a stand-alone solution or as part of a wider PatientSource system.
Benefits:
Dramatically improves your hospital's response rate to abnormal vital signs
Improves patient safety: deteriorating patients get identified sooner and attended sooner
Saves staff time: observations can be automatically collected from a range of supported bedside monitors
Completely intuitive and familiar to any nurse who has ever used a paper observation chart
Outlier patients can be watched just as closely: see all your patients vitals no matter where they are on any console
Features:
Works as a stand-alone module or as part of a wider PatientSource system
Emulates a paper observations chart
Interfaces with a variety of common bedside monitors to collect vitals
Works at the bedside on tablets
Supports and calculates National Early Warning Score[1]
Customisable types of observation parameters: add new parameters as required
Local customisable Early Warning Scores (should you wish to override the National Early Warning Score)
On-screen alerts, alert notifications by SMS / email / smartphone
Escalation of alerts to a senior person should alerts not be addressed
Graphical display of blood pressure, pulse, temperature
Overlay graphs: e.g. blood pressure and pulse
Toggleable measurements: so you can display only

the measurements that are relevant to your specialty
Observation charts are an important method of detecting patient deterioration early. However, healthcare professionals fail to notice abnormal measurements on observation charts between 0-46.5% of the time on paper charts[2]. Abnormal observations are spotted more frequently when the values are plotted[2]. PatientSource displays important observations as a graph. It highlights abnormal observation values, and automatically calculates National EWS scores[1], raising an alert at the top of the page where values are particularly concerning. In addition, PatientSource analyses the trends and can identify deteriorating observations even if the values are within normal range.
Get Electronic Observations:
Electronic Observations works as a stand-alone solution, or seamlessly as part of the PatientSource platform. Pricing depends on the size of your healthcare organisation. We are happy to negotiate performance outcomes based payment. We are also happy to help you write bids for schemes such as the Nursing Technology Fund, to pay for your PatientSource electronic observations solution.
Please contact us to discuss your situation:
Online form: message us

Email: solutions@patientsource.co.uk

Telephone: 01223 851273
References:
Royal College of Physicians. National Early Warning Score (NEWS): Standardising the assessment of acute-illness severity in the NHS. Report of a working party. London: RCP, 2012.
M T Chatterjee, J C Moon, R Murphy, D McCrea. The "OBS" chart: an evidence based approach to re-design of the patient observation chart in a district general hospital setting. Postgrad Med J 2005;81:663–666.