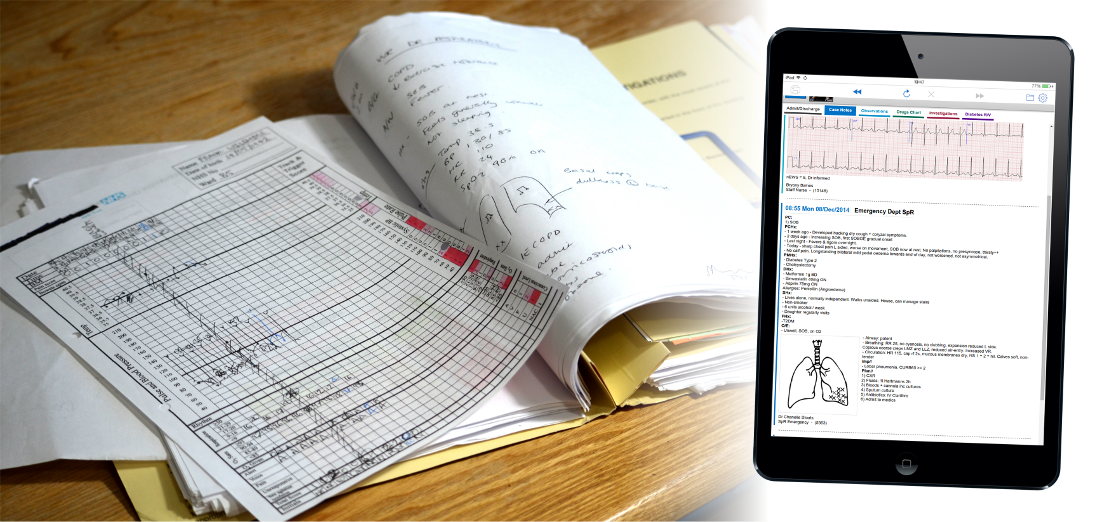 Clinical Noting
Electronic case notes (clinical noting) by PatientSource. Replaces hospital patient paperwork. Replaces manila folders. No more illegible handwriting, no waiting for someone else to finish with the notes, never be missing notes at a clinic again.
ELECTRONIC CASE NOTES (clinical noting)
Fast Clinical Notes
PatientSource's Case Notes clinical noting allows doctors, nurses, and other health professionals to write informative clinical notes with an easy to use editor.
Take and annotate photos
Sketch and annotate diagrams
Free-text notes
Diagram templates
Build your own custom proformas
Attach files and documents
Searchable for terms / clinicians / diagnoses
PatientSource's Case Notes is a purpose built tool which encourages inputting case information with good user experience.
Conveniently access information
PatientSource's Case Notes module is designed for the modern healthcare environment
View a timeline of a patient's care
Information from multiple organisations brought together
See changes to a patient's care plan
Designed for tablets and PCs
Available in the community on 3G/4G/WiFi
Search and filter a patient's records to quickly access relevant information. Different specialities can collaborate to generate a single, comprehensive, timeline of a patient's care.
Pre-configured audit and granular permissions tools allow you to manage access to patient records to simply meet Information Governance requirements.
Powerful Proformas (electronic forms)
PatientSource's Case Notes module allows you to design your own electronic forms for your staff to fill in. We have a huge range of smart fields to pick from allowing you to effectively convert your paper form templates to digital equivalents:
Create an unlimited number of proformas (electronic forms) with our form designer tool
Smart fields that go beyond regular drop-downs such as ICD10 diagnosis fields, importing investigation results, template sketching, photo capture
Automatic calculation fields to allow you to create score calculation forms (e.g. Waterlow, PHQ-9)
Fields can auto-populate from information elsewhere in the patient record (e.g. recent creatinine result, recent blood pressure)
Full granular control over who can fill in each type of proforma, and who can read completed proformas
Collaborative editing mode, so multiple people can contribute to the same form (e.g. handover checklists)
Business case
Case notes are the detailed records of everything that happens to a patient. PatientSource turns the large manilla folders of yesteryear into a modern digital, searchable, analysable electronic case notes. eCaseNotes allows clinicians to write and sketch. It allows hospitals to build and use their own custom digital proformas.
Every time a healthcare professional comes into contact with a patient, they document the encounter and the outcomes. Every consultation, every ward round, every treatment decision, every piece of nursing care. These are vital pieces of communication that allow different members of the healthcare team to know a patient's care plan and to keep up to speed.
The average hospital or NHS Trust spends £8 million per annum storing and pushing around paper patient clinical records. Yet, despite this 15% of clinic appointments take place without the clinician having the correct set of notes to hand[1]. With paper notes, only one person can use them at a time, meaning lost productivity as other healthcare professionals wait. Paper notes get lost, losing the only master copy of what can amount to many years of a patient's personal medical information. Put together, all these issues with paper medical notes mean that paper notes are only available to clinicians for approximately 75% of the occasions when they are needed.
All entries in eCaseNotes are searchable and auditable. Healthcare professionals can quickly find the critical piece of information they need in seconds. There is no more wading through illegible handwriting, and no more carrying piles of folders around the ward. eCaseNotes eliminates your ward trolley and your filing cabinet of paper forms and replaces them with something much more powerful and available at any computer screen or tablet.
Our eCaseNotes solution is one module of our modular platform, meaning it can be purchased as a stand-alone solution or as part of a wider PatientSource system.
Benefits:
Replace handwritten ward notes, admission proformas, clinic letters with a faster digital version
Never struggle to read another clinician's entry again
Sketch medical diagrams, annotate body part templates
Multiple people can access same patient's information at the same time - never have to wait for notes to be free again
Supports all your existing procedures: fully customisable with templates and proformas
Fully searchable, find information much faster than paper
Completely auditable, know who made an entry, when it was made and who has viewed it since
Features:
Works as a stand-alone module or as part of a wider PatientSource system
Configurable templates and proformas
Chronological ordering
Smart searching across all entries
Filters allow you to display just the types of note you are interested in
Sketch pad allows you to sketch diagrams, take photos, annotate and embed them within an entry
Template body parts to base sketches on
Scan and import: allows you to scan in paper notes which will then be analysed and become searchable if in a printed font
References:
Burnett et al., 2011: "Missing Clinical Information in NHS hospital outpatient clinics: prevalence, causes and effects on patient care"